Maine Winning Numbers, Predictions, Prize Payouts & FAQ's
Most Recent Results & Winning Numbers
ME Lottery Scratchers
Here are some of the top Scratchers are available
5X THE CASH BONUS EDITION
Ticket prize
$1
Overall Odds
1 in 4.83
Prize Range
$500-$5,000
CA$H DASH
Ticket prize
$1
Overall Odds
1 in 4.40
Prize Range
$500-$2,000
LUCKY WIN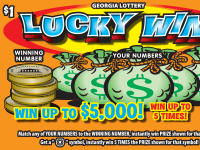 Ticket prize
$1
Overall Odds
1 in 4.83
Prize Range
$500-$5,000
Maine Game & Drawing Times
Includes all ticket cut-off times and approximate drawing times.
Specific ME Game Information
Game Information breakdown
Maine Lottery Tax Information
Lottery winnings are usually taxed, see what your state taxes prizes at below.
Maine Residents
| Prize Winnings | State Tax | Federal Tax |
| --- | --- | --- |
| $5,000 and up | 5% | 24% |
Non-US & Non-ME Residents
| Prize Winnings | State Tax | Federal Tax |
| --- | --- | --- |
| $5,000 and up | 5% | 30% |
Where to claim your lottery winnings
Bureau of Alcoholic Beverages and Lottery Operations
10 Water Street, Hallowell, ME 04347
(800) 452-8777, (207) 287-3721
Most popular asked questions:
Lottery winners should sign the back of their winning ticket and put it in a safe place.
Prizes worth less than $600 can be redeemed at any lottery retailer. For prizes worth more than $600 players can redeem their prize by mail or by visiting a lottery office. Winners will also need to fill out a claim form which can be found on the Maine lottery website.
Players must have their winning ticket in order to claim a prize. The Maine lottery is not responsible for lost or damaged tickets.
Players can find a lottery retailer near them by searching on the Maine lottery website.
Yes. Tickets can be bought ahead of time for any of the draw games.
The Maine lottery offers the following games: Tri-State Megabucks, World Poker Tour, Lotto America, Mega Millions, Powerball, Gimme 5, Lucky forever, Pick 3 (Day, Evening), and Pick 4 (Day, Evening).
Players must be at least 18 years old to buy lottery tickets in Maine.
No. The Maine lottery can release the name and city of the winner as well as the prize amount.
No. Maine lottery tickets can only be purchased at lottery retailers.
More Available Lotto Results