Louisiana Winning Numbers, Predictions, Prize Payouts & FAQ's
Most Recent Results & Winning Numbers
LA Lottery Scratchers
Here are some of the top Scratchers are available
$1,000 Stacked
Ticket prize
$10
Overall Odds
1 in 3.30
Prize Range
$15-$200,000
$50 Stacked
Ticket prize
$1
Overall Odds
1 in 4.80
Prize Range
$2-$1,000
$100 Stacked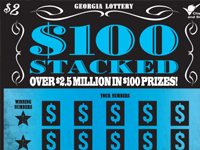 Ticket prize
$2
Overall Odds
1 in 4.60
Prize Range
$4-$12,000
Louisiana Game & Drawing Times
Includes all ticket cut-off times and approximate drawing times.
Drawing Date & Times
Game
Ticket Cutoff
Mon
Tue
Wed
Thu
Fri
Sat
Sun
Pick 3
9:30 PM
9:59 PM
9:59 PM
9:59 PM
9:59 PM
9:59 PM
9:59 PM
9:59 PM
Pick 4
9:30 PM
9:59 PM
9:59 PM
9:59 PM
9:59 PM
9:59 PM
9:59 PM
9:59 PM
Lotto
9:30 PM
9:59 PM
9:59 PM
Easy 5
9:30 PM
9:59 PM
9:59 PM
Powerball
9:00 PM
9:59 PM
9:59 PM
Mega Millions
9:00 PM
10:00 PM
10:00 PM
Louisiana Lottery Tax Information
Lottery winnings are usually taxed, see what your state taxes prizes at below.
Louisiana Residents
| Prize Winnings | State Tax | Federal Tax |
| --- | --- | --- |
| $5,000 and up | 5% | 24% |
Non-US & Non-LA Residents
| Prize Winnings | State Tax | Federal Tax |
| --- | --- | --- |
| $5,000 and up | 5% | 30% |
Where to claim your lottery winnings
Louisiana Lottery Corporation Headquarters
Baton Rouge Regional Office, 555 Laurel Street, Baton Rouge, LA 70801
(225) 297-2000
New Orleans Regional Office
Clearview Palms Shopping Center, 2222 Clearview Parkway, Suite B-3, Metairie, LA 70001
(504) 889-0031
Lafayette Regional Office
Centerpiece Shopping Center, 5520-L Johnston Street, Lafayette, LA 70503
(337) 262-5413
Alexandria Regional Office
Emerald Square Shopping Center, 1325 MacArthur Drive, Alexandria, LA 71301
(318) 487-5005
Monroe Regional Office
1128 Pecanland Mall Drive, Monroe, LA 71203
(318) 362-5460
Shreveport Regional Office
Old River Marketplace, Shopping Center, 767, Shreveport-Barksdale Highway, Shreveport, LA 71105
(318) 869-6550
Most popular asked questions:
No, please only buy LA Lotto tickets from authorized retailers in the state near you.
Under Louisiana lottery laws and state statues if you prize winnings are above $600, you need to submit a claim for your lottery prize at the lottery office. All prizes must be public information. Depending on certain circumstances, there might situations where your identify will be available to the public. It is always advised that you consult a lawyer before claiming a prize.
Always take care to keep your tickets in a safe place. You should always sign your tickets as well.
If you are at least 21 years old, you are allowed to purchase lottery tickets and scratch offs.
Scratch off tickets can be claimed up to 90 days after the game ends. Winning tickets from draw games can be claimed up to 180 days after the date of the winning draw.
The Louisiana lottery offers the following draw games: Pick 3, Pick 4, Powerball, Lotto, Easy 5, and Mega Millions.
Players that win less than $600 can redeem their prize by going to a lottery retailer, visiting the lottery office, or by mailing the ticket and cliam form to the lottery headquarters. For prizes worth more than $600, players can redeem their prize by taking the winning ticket and claim form to the lottery office.
Payment by credit or debit cards is not prohibited but it is determined by individual lottery retailers. Some lottery retailers may only accept cash payment for lottery tickets.